If students are expected to be happy, active, positive and productive, they have to be exposed to activities organised on a massive scale. Mega events such as the Mega Science Exhibition, Minithon, Art Carnival, Science fest and Open badminton tournaments serve this purpose.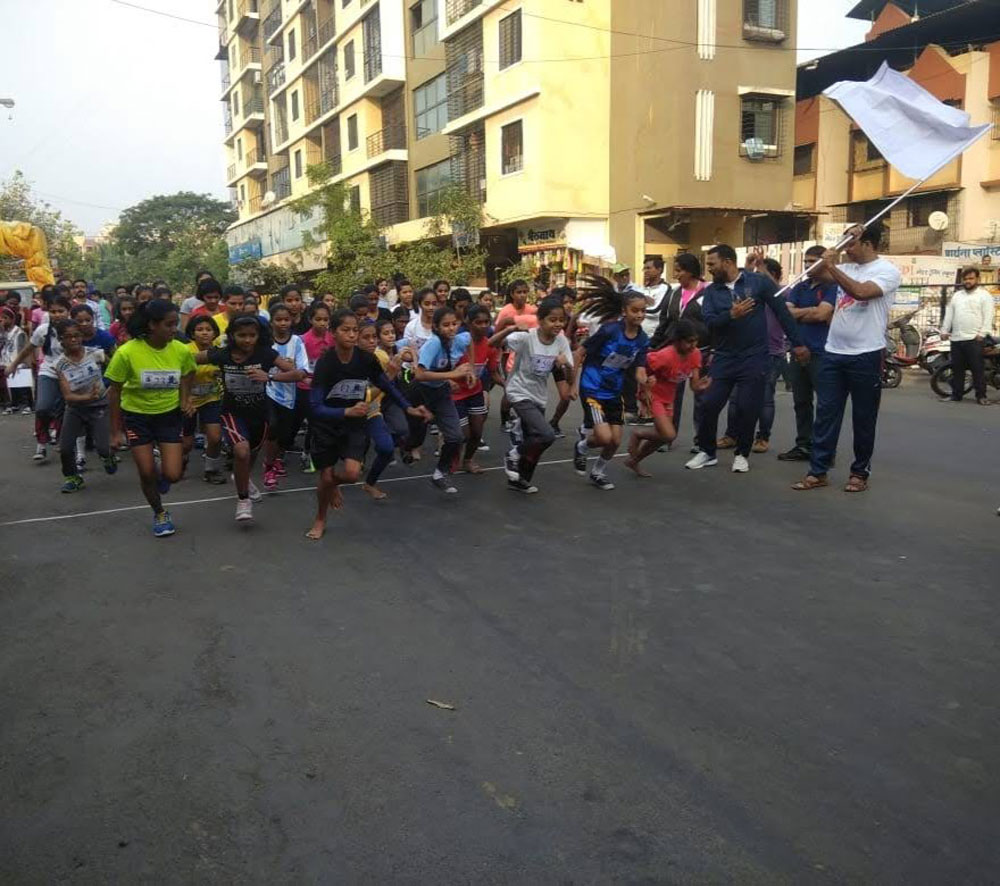 Caught between rising child obesity on one hand and the inclination towards cell phone on the other among the school students, National Education Society and Young Global Citizens' Educational Trust decided to conduct "Minithon" with the sole objective to bring the students out of the four walls of the classroom and to change their habits. Minithon is conducted since 2007, involving 1500+ students every year. The intent of the minithon is to involve students to enhance their fitness levels and lean towards a healthy lifestyle.
Open badminton tournament
National English School, ICSE has been organising the open badminton tournament  for boys and girls covering Vasai- Virar Mahanagarpalika  areas since 2009, to promote interest in students for badminton and to provide a platform to develop themselves in sports. The tournament attracts 400+ participants from Vasai taluka. Many students have seriously taken up  badminton and are doing well in the District, Zonal, State and National level tournaments.
Various activities are conducted on a regular basis to give an opportunity to students to enrich themselves in various fields. Young Global Citizens' Educational Trust and National Education Society tie up to   organise the "Art Carnival"  to promote interest of students and parents in art and propagate the concept of global citizenship. This event comprises of thrilling competitions for students of various age groups and their parents namely- Best out of Waste, Paper decor, Recycled cloth bags, Party masks, Carnival antennas, Photo frames, Key chains and many more. Dances and carnival parades are a sight to behold.  
Our trust in collaboration with Young Innovators Science Trust  runs National School Science Centre. We have been endeavoring to imbibe scientific temper among students and propagate science among citizens in general.  
From 1987, National School Science Centre has organised mega exhibitions like DINO SHOW, WILDLIFE, SAFARI, ENCHANTING IDEAS OF ENTERPRISING MAN, THE WONDROUS WINGED WORLD, SPACE… OUR FUTURE, MAN ON THE MOVE, EXPERIENCE & ENJOY, MATHEMAGIC LAND, RECYCLING
IS THE KEY and EXPLORE AND EXPERIMENT, 'SECRETS OF ENERGY', 'WINDOWS TO THE WORLD', 'PEEP INTO YOURSELF','FANTASTIC FORCES', and INVISIBLE WORLD
and these have played a crucial part in propagating science and have attracted large number of students, parents and citizens.